IDEA-lab at the International Conference on Computer Vision (ICCV23)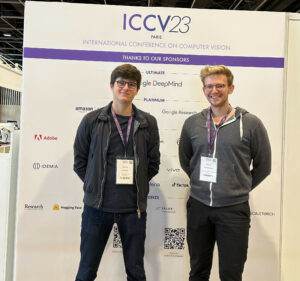 In early October 2023, two of our dedicated PhD students, Mischa Dombrowski and Hadrien Reynaud, seized an incredible opportunity to participate in the renowned ICCV 2023 conference. ICCV stands as a prominent event in the field of computer vision, drawing in more than 6,000 attendees in person this year. The conference spanned five enriching days.
On Wednesday, Mischa had the honor of presenting his groundbreaking research titled "Foreground-Background Separation through Concept Distillation from Generative Image Foundation Models" as a key part of the conference proceedings.
We invite you to explore Mischa's innovative work and gain valuable insights at the conference. Join us as we delve into the exciting developments in computer vision!
https://openaccess.thecvf.com/content/ICCV2023/html/Dombrowski_Foreground-Background_Separation_through_Concept_Distillation_from_Generative_Image_Foundation_Models_ICCV_2023_paper.html